Dr. Michael Spann is the founder of Little Rock Plastic Surgery, a premier practice in Little Rock, Arkansas. The practice now has a new website called LittleRockPlasticSurgery.com. The website has been designed and developed with technical expertise from CreativeTake Medical which is a leading Internet marketing and SEO company for doctors in the United States. Dr. Spann believes that patient education in reconstructive and cosmetic surgery is the first step to achieving success in such procedures.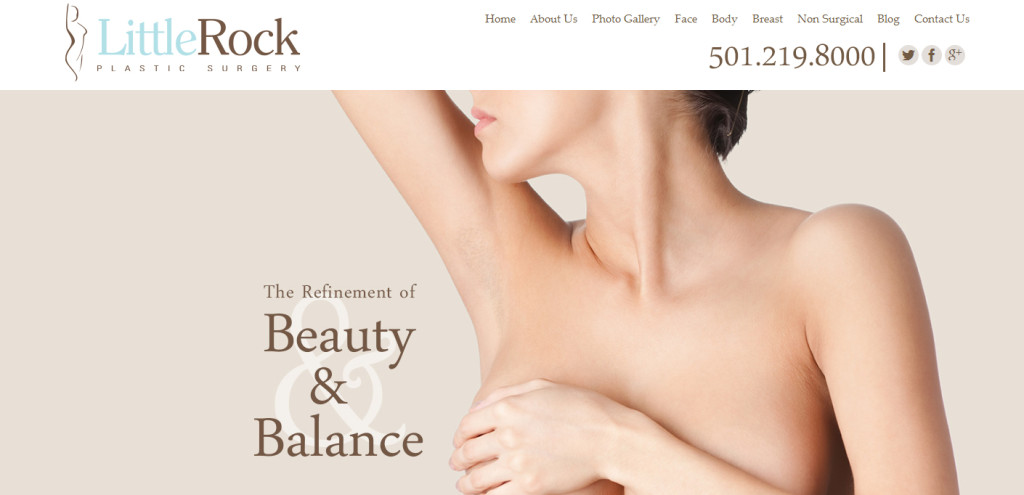 LittleRockPlasticSurgery.com is designed to serve as a useful and comprehensive online resource on a variety of procedures performed by a cosmetic surgeon. People in and around Little Rock, who are considering aesthetic surgical options, can receive in-depth information about various procedures that Dr. Spann performs. Patients who are looking for non-surgical aesthetic treatments can also learn about the latest and innovative treatment options at the website.
Background of Dr. Spann
For a new patient, one of the key concerns is to know something about the background of the plastic surgeon who will perform the procedure. LittleRockPlasticSurgery.com provides a dedicated section that includes detailed information about Dr. Spann's qualifications, training, experience and honors and recognition earned during the course of his illustrious career.
The website informs patients about Dr. Spann's board certifications in general surgery and plastic surgery, and explains why it is important to choose a board certified surgeon. The site includes a link to a PDF file providing detailed CV of Dr. Spann that takes the reader through his extensive journey in academics, training, and research.
Surgical Procedures
Dr. Spann provides a wide range of reconstructive and cosmetic surgery procedures to patients in Little Rock and surrounding areas. The procedures are explained in detail on the website in a patient-friendly language. The procedures are broadly categorized into three separate sections on the site: Face, Body, and Breast.
Each section includes multiple sub-sections that deal with a variety of facial procedures such as facelift, nose job, brow lift, eyelid surgery, ear surgery, body contouring procedures such as arm lift, thigh lift, liposuction, tummy tuck, mommy makeover, and breast procedures such as breast augmentation, breast reduction, breast lift, and breast revision.
Patients can review the procedure that they are considering, and gain a few basic insights about it. This can improve their understanding and awareness, and they will be in a better position to discuss their concerns and queries during a personal consultation with Dr. Spann.
Other Sections
LittleRockPlasticSurgery.com also includes a separate section that addresses various non-surgical procedures provided at the practice. These procedures are well-suited for patients who are keen to receive aesthetic treatment, but do not wish to undergo surgery. Dr. Spann's website includes a unique section called "How to choose the right surgeon in Little Rock."
This section can help a new patient understand what may be the important characteristics to look for in a plastic surgeon. Other exclusive sections that are provided on the site include Financing, Patient Testimonials, and a Photo Gallery. There is also a blog section that will keep patients updated with latest information and new developments in the field of plastic surgery.
For more information on plastic surgery treatments and procedures by Little Rock, AZ Plastic Surgeon, Dr. Michael Spann contact us at  501.219.8000.